BAY AREA EVENT AND MEETING VENUES
Host Exceptional Events in Marin County
Quietly elegant, the resort-style Lodge at Tiburon is an ideal venue for corporate retreats, destination meetings, conferences, and team-building activities. We offer up to 11,000 square feet of multi-use conference and event space, with the capacity to accommodate up to 200 guests.
Our meeting spaces offer beautiful natural lighting, scenic backdrops, and the high-tech audiovisual amenities you need. In addition, you'll enjoy catering by Tiburon Tavern, featuring the flavors and cooking styles that have made Northern California famous.
Call 415-435-3135 to get more information, or fill out the request for proposal at right to learn how the The Lodge at Tiburon can make your event shine.
The Lodge at Tiburon offers accessible meeting and event spaces. For more information on accessibility, please view our Accessibility Statement.
skip
Compass Boardroom
Specs:
SQ ft - 420
Ceiling Ht. -
Banquet - 16
Reception - 16
Theatre -
Conference -
U-Shape -
Hollow Sq. -
Class -
Services & Amenities:
103 warm and inviting guest rooms, most with balconies or patios and all with courtyard or mountain views
Spacious pre-function areas for gathering and networking
High-tech audio/visual equipment available Catering provided by award-winning onsite restaurant, Tiburon Tavern
Complimentary wireless internet
Complimentary self-parking
24-hour business center
Mainsail Ballroom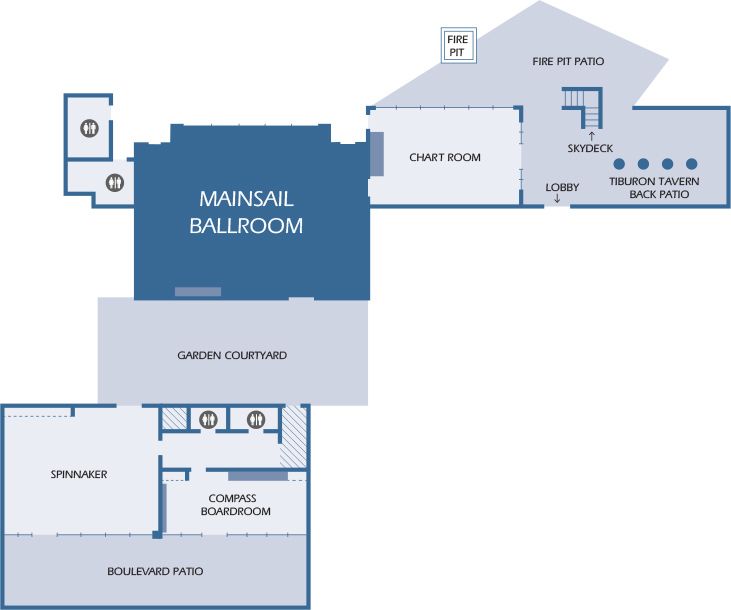 Specs:
Dimensions - 35' x 47'
Sq ft - 1645
Banquet - 120
Reception - 120
Ceiling Ht. - 9'
Theatre - 40
Classroom - 90
U-Shape - 40
Conference - 40
Hollow Square - 45
Services & Amenities:
103 warm and inviting guest rooms, most with balconies or patios and all with courtyard or mountain views
Spacious pre-function areas for gathering and networking
High-tech audio/visual equipment available
Catering provided by award-winning onsite restaurant, Tiburon Tavern
Complimentary wireless internet
Complimentary self-parking
Full-service catering
Flexible indoor/outdoor venues
Audiovisual equipment
Sky Deck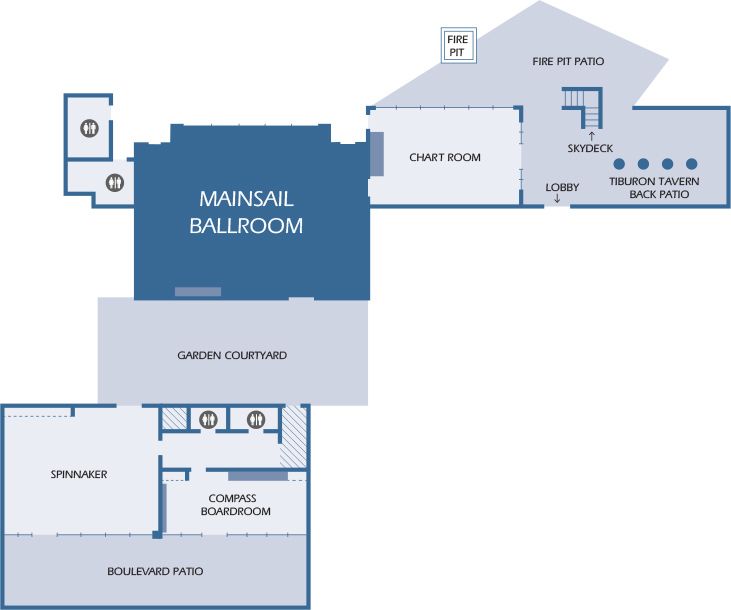 Specs:
Dimensions - 61' x 30'
Sq ft - 1830
Services & Amenities:
Can hold 150 guests banquet style
Spinnaker Room
Specs:
Dimensions -
SQ ft - 900
Ceiling Ht. -
Banquet - 60
Reception - 60
Theatre -
Conference -
U-Shape -
Hollow Sq. -
Class -
Services & Amenities:
103 warm and inviting guest rooms, most with balconies or p
atios and all with courtyard or mountain views
Spacious pre-function areas for gathering and networking
High-tech audio/visual equipment available
Catering provided by award-winning onsite restaurant,
Tiburon Tavern
Complimentary wireless internet
Complimentary self-parking
24-hour business center
Chart Room
Specs:
Dimensions - 20' x 30'
SQ ft - 620
Ceiling Ht. -
Banquet - 40
Reception - 40
Theatre -
Conference -
U-Shape -
Hollow Sq. -
Class -
Services & Amenities:
103 warm and inviting guest rooms, most with balconies or patios and all with courtyard or mountain views
Spacious pre-function areas for gathering and networking
High-tech audio/visual equipment available
Catering provided by award-winning onsite restaurant, Tiburon Tavern
Complimentary wireless internet
Complimentary self-parking
24-hour business center
Tiburon Tavern Front Patio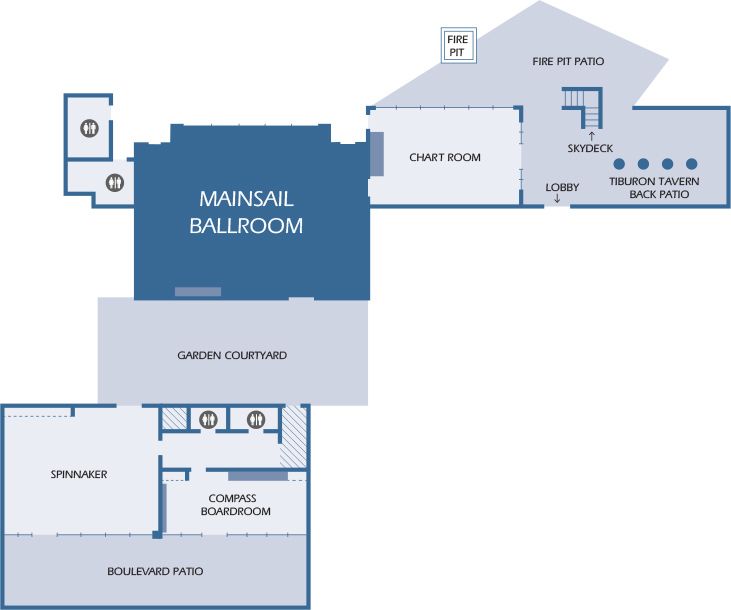 Services & Amenities:
Can hold 75 guests banquet style